When I read this quote, it make me want to stop making excuses and press on with the goals which I have set and have not achieved it. Yes, I must stop giving excuses, so I am writing this down on my stick it note and will be sticking it in front of my computer and will read it daily as a strong reminder.

ďThe only person standing between you and your goals is YOU. No one can stop YOU other than YOU, if you really want to achieve your goals youíll find a way, if you donít, youíll find an excuse.Ē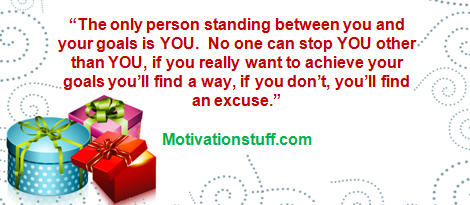 The story I read was an India national who begs daily during the day to pay his school fees and in the evening, he turn himself into the most dedicated Law student in class. When being interviews, he said that many people used to insult him because as a young man he was begging and not trying to find a proper job to support his family. Although he look normal, nobody know that he has a physically disability because his hands cannot work properly and that is why he could not even be a laborer. Fortunately, he was born with a mentally strong mind like Stephen Hawking and his reason to live a better life is so strong that he focus his mind and found a way to achieve his goals rather than giving himself excuses.
Shiv Singh is a 48 year old law student at the Rajasthan University. Everyday till 3 in the afternoon, you will find him begging at shops and houses near his region. As soon as the clock strike 3 pm, he can be spotted in the college campus carrying some books in an old and torn bag.
According to the information given by the college administration, he had never taken a day off since he step into the college. The day when there is no lesson, he will be found sitting and studying diligently in the library hall. When told about his begging, his teachers and fellow classmates were surprise as they found it hard to believe that Shiv Singh begs as he was always seen sincerely studying in the college.
When asked, Shiv Singh says that he too had a family and his parents paid for his studies even after working as laborers and had little left for themselves. He pursued his graduation from the Government College in Gangapur City. Thereafter, he got married and had kids but found himself unable to get a job as his hands did not work. His wife and kids left him alone and he was left with no option except to beg.
One day, he saw the advertisement for law college in the newspaper and filled in the form. He saved the money he begged from people to buy books. Shiv mentioned that all he wanted is to complete his studies after which he will hopefully get a job in the court.
Hope that Shiv Singh story will inspired us to set and achieved our own goals and never give up at the slightest set back. Press on and you will succeed.
Free Quotation
Daily Email Quotes with Free Ebook